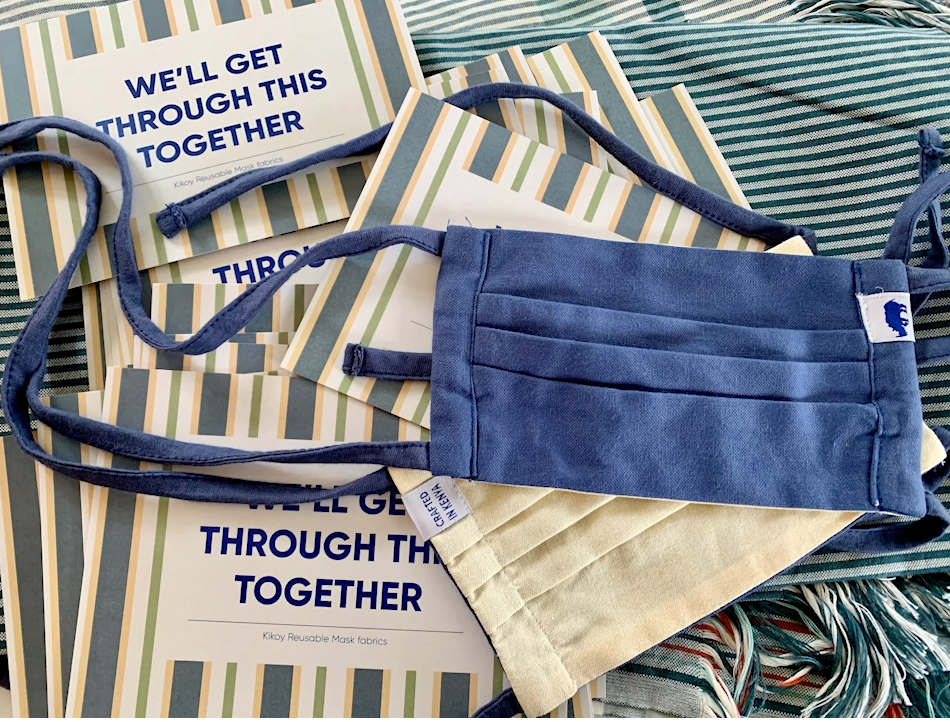 Kikoy Mask Project Update from American Rhino on Vimeo.
To the American Rhino community
In late March, we started sharing our initiatives and experiences in response to the coronavirus and its impacts on our community, customers, team members, and wildlife conservation. We really had no idea on the best way forward and our plans have been flexible as we try to anticipate opportunities that move forward personally, professionally, and as part of the community. One thing quickly became obvious – our 100% cotton Kikoy fabric makes great face masks.
The inspiration came from our team in Kenya. Every morning our garment makers sew a new face mask from off-cuts of our fabric. This is the most comfortable solution to avoid inhaling fabric dust in a work environment cooled by fans. In late February, we were joking that we might have the team make facemasks for us. By late March it was a reality. And now for me, April 2020 will always be "The Month Of Masks".
20,000 Masks Project for Frontline Workers
Early in March, even before shelter in place orders started being issued across the country, we were hearing from friends at local medical facilities that they were short of Personal Protective Equipment.  We chatted with Dr. Hank Frissora to determine if providing cloth masks would help at all.  He heartily encouraged us to make masks and provided direction on appropriate design features. We quickly ran up a prototype and shared pictures with him around March 16th.
Our garment makers were in the middle of fulfilling our Spring/Summer order. And flights were starting to be canceled so we knew we needed to move quickly if we were going to be able to help in any way. We switched our Kiboko team to making the masks. They produced over 1,000 for us and for local use, in the two days before the factory was shut down.
Now the problem was trying to get the 1,000 masks and two pallets of Kikoy (enough fabric for another 19,000 masks) out of Kenya. Our regular shippers did not have any capacity. After many hours talking with DHL, FedEx, and being bumped from flights twice, we got confirmation on Sunday the 29th that they had left Nairobi.
Confident that the fabric was in transit, and knowing that time was of the essence, we posted our call to home sewers to join the project and order free Kikoy material. The orders started coming in immediately and soon we had to reduce the order limit from sixteen square yards to eight. Just like the plans of mice and men we then had our moment of pause. Our shipment had a transit stop in Europe where it was again bumped from the second leg of its journey.
I wouldn't say we panicked – but the whole team certainly felt the stress of having over a hundred volunteers champing at the bit to get their material and get on with sewing. So, we did what we could. We paused on taking new orders. On April 5th we had confirmation that the shipment was in transit to JFK. We confirmed for our volunteers that the deliveries would be in their way in the coming days and opened the ability for more volunteers to order material. Within two days we celebrated having all our fabric committed to mask makers.
I have to give a huge shout out and thank you to Coco, our Director of Brand Management, and her parents Val and Al. Sheltering in rural Pennsylvania, they turned her parent's dining room into a fabric cutting and fulfillment center. Coco's family showed once again how supportive they are of the Rhino Community and what a precious part of it they are too.
Meanwhile, Annie our Director of Operations delivered facemasks to Dr. Hahn at Beverley Hospital and to the hard-working team at South End- Hayley House soup kitchen. Thank you all again for the work you are doing to keep us safe. We loved seeing all of your pictures. Be safe!
Supporting efforts in Kenya
American Rhino recently partnered with our long-term collaborators The Safari Collection and Shining Hope for Communities to make protective masks for the Ranger teams and local community.   We donated 500 yards of our 100% cotton Kikoy material – enough to make 5,000 masks. The same material that we used to make masks for the medical staff at Beverly Hospital and distributed volunteers across the US to make masks for their local healthcare providers.
Tanya and Mikey Carr- Hartley and the team at The Safari Collection for all of your work organizing and coordinated the effort. They delivered our material to Shining Hope for Communities (ShofCo) women's empowerment program in an informal settlement of Nairobi. The seamstresses went to work designing and sewing the first batch of 500 masks which were delivered to the anti-poaching teams and the local Samburu community two weeks ago.
Our future with Masks
It appears obvious that as part of our social distancing regimen we will be using cloth masks for some time. Our immediate team and many close friends are now sporting Kikoy masks already. The feedback has been overwhelmingly positive with many requests to buy them for their friends and families. They are comfortable, washable, and certainly have a whole lot more personality than a construction mask.
Last week our partners at Kiboko have partially reopened. We managed to have 500 masks made and are now available on our website. To be fair to our community we have had to limit orders to two packs of four – enough for most families. We are now determining the logistics of having more masks made and shipped. The timeline for that is not clear in these uncertain times but you can be sure that we will do all that we can to keep moving forward on that front too.
Again – thank you for your continued support of American Rhino and our conservation efforts. Stay optimistic. We will get through this together.
HAKUNA MATATA
Chris
Christopher Welles
Founder