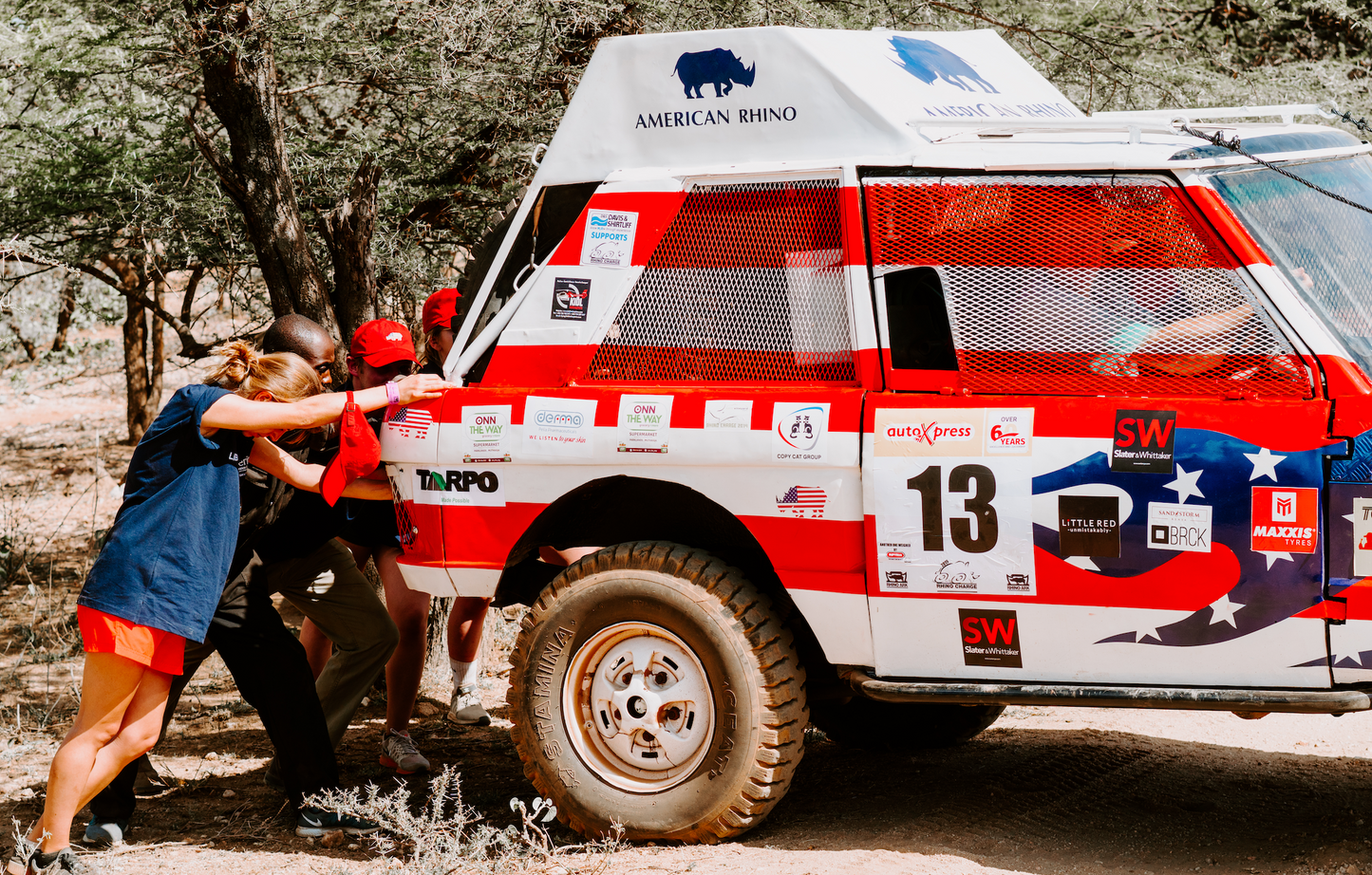 Last week, members of our team at American Rhino had the exciting opportunity to travel to Kenya for the 31st Rhino Charge, an annual off-road fundraising event. In order to complete the challenge, competitors are required to hit 13 checkpoints that are scattered over a vast 100 square kilometers of rough and bumpy terrain.
The event is organized to raise money for the Rhino Ark Kenya Charitable Trust and it did just that, generating a whopping KES 156,336,331.33 which is equal to over $1.5 million U.S. Dollars. The funds help the organization continue to bolster their efforts of conserving Kenya's key water towers and fragile ecosystem. The money raised makes a tremendous impact on Kenya's environment and allows their wildlife the chance to flourish.
This year, our team felt a special connection to lucky number 13, as we were car number 13 and we hit 13 checkpoints with a respectable 13 minutes left on the clock! This was our founder Chris's sixth year participating in the Rhino Charge and we're excited to share that we finished with our best time yet. The cars that carried other teams participating in the Rhino Charge varied greatly in make, model, and modifications. Some boasted advanced four-wheel drive technology and drivers who were born in Kenya with an innate knowledge of the land, while others donned monstrous tires and multiple winches. We drove a 1987 Land Rover painted like the American Flag, which we affectionately deemed the RhinoMobile.
Our team was certainly thrown for a loop when we came face to face with the unanticipated challenge of our fuel pump dying. We noticed some problems with the pump before even reaching our first checkpoint and were forced to reevaluate the way we would take on the course. As a result of creative thinking and sharp innovation, our team built a makeshift fuel pump consisting of a plastic water bottle and a garden hose-like tube. In order to proceed with the race, we stopped our car to refill our alternative fuel pump 30-35 times over the 10 hour period that we raced. Due to these difficulties, we took a less direct route than would've been ideal. We were faced with ridges, rock faces, and ditches along the way that became even more arduous to navigate.
We spent 10 days in Kenya, 3 days at the Rhino Charge venue, and 1 day competing in the event. Our team visited our factories in Kenya, inspecting the conditions, making changes, and checking out the quality control. We were proud to hit all 13 checkpoints of the Rhino Charge, a feat that most teams don't accomplish. However, we were most grateful to be part of an event that raises money for such an impactful cause. We learned a lot from our journey and are looking forward to participating again next year!